Wedding location in Brianza
Hotel and restaurant for weddings
The experience gained over the years has made Camilla one of the most sought after wedding location in Brianza. The great passion of the owners Gabriella and Massimo and her daughters Veronica and Virginia, combined with the delicious proposals of the chef, make La Camilla a special place among the wedding restaurants in Brianza. In addition to offering the best of Lombardy and Brianza cuisine, the property features a large and green garden for stunning photo services.
The wedding location in Brianza, La Camilla welcomes wedding banquets in all seasons: in the summer with a park of 70,000 square meters and in winter in the cozy halls. Precious horse-drawn carriages will make every wedding more prestigious and original, giving rise to suggestive choreography.
Within the structure you can celebrate weddings with civil validity.
The rooms
There are six different rooms with different features capable to host banquets and wedding refreshments: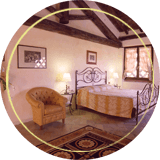 Hotel in Brianza
For the newlyweds there are romantic suites for comfortable family and friends for two, three or four people, tastefully furnished and a touch of romance. The rooms are equipped with all comforts, from central heating to plasma TV with satellite channels, minibar and safety deposit box, complimentary toiletries and free wi-fi.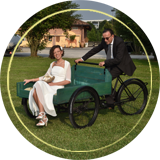 The estate
Thanks to the agile and comfortable golf-car you will be able to visit the immense estate and to stay in the most suggestive corners of the rediscovery of nature, from the church surrounded by greenery to the two artificial ponds that welcome turtles, ducks, carp and sturgeon. A large aviary allows you to observe some of the most curious ornithological varieties in the world.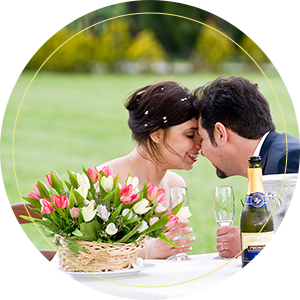 All Inclusive" Wedding Package
The wedding location in Brianza, La Camilla, dedicates to the spouses (only in the formula "wedding package" and for at least 40 people) an all inclusive proposal.
Rich menu on seasonal proposal with drinks included and unrestricted wines
rints of menus, placeholders, signboards, special "tableau"
Decoration of the table and the buffet
Fruit and dessert buffet
Menus tasting for the bridal couple
Wide Hourly Availability
First wedding night in the SUITE room with breakfast
Golf car available in the estate
Prices
From Tuesdays to Fridays it is possible to take menu from 50,00 to 90,00 Euro per person.
Mondays, Saturdays, Sundays and holidays, a menu is available at a cost of 100,00 Euro per person.
The above services are included in the package from Euro 90,00 and 100,00.
Ad hoc customizations are available for the spouses.
Sign up to our newsletter