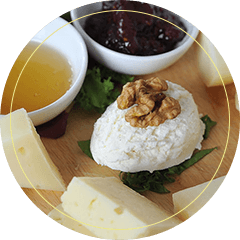 The farmhouse restaurant
Lombard cuisine and vegetarian dishes
The lombard cuisine is the protagonist of the farmhouse restaurant. Traditional, simple and genuine, the dishes offered by the chefs of La Camilla range from appetizers with typical cold meats to the pasta dishes, from meat specialties to delicious desserts.
Meat, vegetables, fruit and honey of its own production
The carefully choice of ingredients is shown in the use of raw materials of its own production and the purchase of products from certified farms. The farmhouse La Camilla produces locally grown vegetables, fruits and berries, honey, beef.
Pork and salami are processed by a partner farm in Brivio, in the province of Lecco. Cheese, eggs, rice, wine, oil and fish are purchased from strictly selected Lombard farms.

While appreciating the specialties of lombard cuisine, La Camilla is specialized in gluten-free, vegetarian and vegan cuisine, food intolerances and allergies are also taken into consideration. Therefore, on request, chefs prepare custom menus and vegetarian dishes are always available.
Opening hours of the farmhouse restaurant
The farmhouse restaurant in Concorezzo is open to the public from Tuesday to Saturday and dinner. Sunday only for lunch. For the remaining days, the property hosts ceremonies and banquets on request, from 20 to 200 people.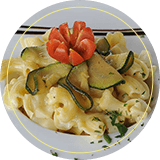 RESTAURANT
Restaurant in Concorezzo, in the heart of Brianza, the chefs of La Camilla offer rich menus for lunches, dinners, aperitifs and brunches. La Camilla is also the ideal location for receptions, weddings and ceremonies.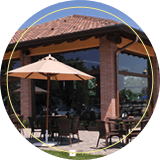 BAR BISTROT
At the bistro, every Sunday you can enjoy rich brunches and appetizing appetizers for young and old. The bistro offers spacious and comfortable spaces for relaxing moments with family and friends.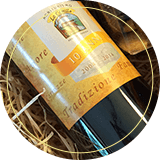 CELLAR
For La Camilla it is important to accompany the chef's specialties with wines selected from the most prestigious Italian and international labels. La Camilla offers its guests a rich cellar.
Sign up to our newsletter