Corporate dinners near to Milan
Complete corporate event organization
Just 200 meters from the Energy Park and Torri Bianche Complex of Vimercate, not far from FieraMilanoCity from the polo of Rho Fiera, the La Camilla farmhouse is located in the green of Brianza. Ideal for corporate events and corporate dinners near Milan, Concorezzo's structure has equipped rooms and a large garden for outdoor coffee breaks. The restaurant offers customizable menus for business events and business meetings, offering dishes made with own ingredients.
The multilingual staff, helpful and prepared, assists the guests with professionalism and courtesy, ensuring the success of business events from 20 to 200 participants. La Camilla also has rooms and apartments, ideal for business travelers.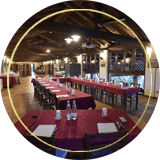 MEETINGS AND CONFERENCES
La Camilla has several rooms for hosting business meetings and conferences. The company staff takes care of organizing the events and setting up the spaces that host them.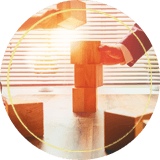 TEAM BUILDING
Through the collaboration of a team of experts, La Camilla organizes training-motivational activities designed to increase cohesion within various types of companies.
Discover the Christmas Company Menu
Sign up to our newsletter