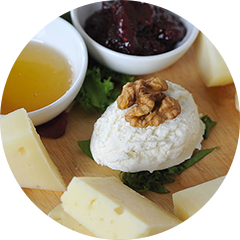 The farmhouse restaurant
The farmhouse restaurant
The lombard cuisine is the protagonist of the farmhouse restaurant.
Traditional, simple and genuine, the dishes offered by the chefs of La Camilla range from appetizers with typical cold meats to the pasta dishes, from meat specialties to delicious desserts.
Meat, vegetables, fruit and honey of its own production
The carefully choice of ingredients is shown in the use of raw materials of its own production and the purchase of products from certified farms. The farmhouse La Camilla produces locally grown vegetables, fruits and berries, honey, beef.

While appreciating the specialties of lombard cuisine, La Camilla is specialized in gluten-free, vegetarian and vegan cuisine, food intolerances and allergies are also taken into consideration. Therefore, on request, chefs prepare custom menus and vegetarian dishes are always available.
Opening hours of the farmhouse restaurant
The farmhouse restaurant in Concorezzo is open to the public from Tuesday to Saturday and dinner. Sunday only for lunch. For the remaining days, the property hosts ceremonies and banquets on request, from 20 to 200 people.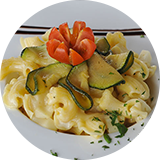 RESTAURANT
Restaurant in Concorezzo, in the heart of Brianza, the chefs of La Camilla offer rich menus for lunches, dinners, aperitifs and brunches. La Camilla is also the ideal location for receptions, weddings and ceremonies.
MENU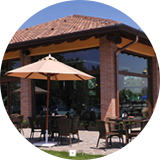 BISTROT BAR
At the bistro, every Sunday you can enjoy rich brunches and appetizing appetizers for young and old. The bistro offers spacious and comfortable spaces for relaxing moments with family and friends.
BAR BISTROT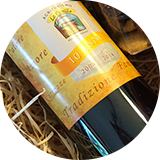 CELLAR
For La Camilla it is important to accompany the chef's specialties with wines selected from the most prestigious Italian and international labels. La Camilla offers its guests a rich cellar.
CELLAR
THE ROOMS
There are six different rooms with different features capable to host banquets and wedding refreshments:
Sarà possibile organizzare il ricevimento "su misura", dando agli sposi la possibilità di scegliere tra varie proposte organizzative, avendo cura di ogni dettaglio, dalla scelta del menù, alla mise en place ai vini sapientemente abbinati, agli allestimenti più consoni per il "tocco finale " al vostro giorno speciale.
Agriturismo "La Camilla" è lo scenario perfetto in cui poter condividere con gli amici ed i propri cari la celebrazione di questo indimenticabile evento.
Affinché possiate godere appieno della magia e della gioia che vi donerà questo lieto evento, il personale altamente qualificato del ristoro agrituristico penserà alle vostre esigenze fin nei minimi aspetti, sapendovi fornire un servizio che si distinguerà nella cura del dettaglio.
L'ambiente creato nella caratteristica e suggestiva "Cantina dei Vini" nel periodo invernale o nell'incantevole ed ampio giardino nel periodo estivo, si rivelerà ideale per un festoso e ricco aperitivo prima del ricevimento.
Preziose carrozze trainate da maestosi cavalli sapranno rendere ancor più prestigiosa ed originale la vostra cerimonia prestandosi come scenario per realizzare suggestive fotografie.
Per i novelli sposi sono disponibili romantiche suite, per amici e parenti confortevoli camere per due, tre o quattro persone, arredate con sapiente gusto ed un tocco di romanticismo .
Le camere sono dotate dei migliori comfort, tra cui il riscaldamento centralizzato, aria condizionata, tv al plasma con canali satellitari, frigobar, cassetta di sicurezza, prodotti cortesia, connessione internet gratuita.
Grazie alle nostre golf-car sarà possibile visitare l'immensa tenuta della "Camilla", soffermarsi negli angoli più suggestivi alla riscoperta della natura e vedere : una deliziosa chiesetta avvolta nel verde della natura; due laghetti artificiali che accolgono tartarughe, anatre, carpe e storioni; una grande voliera nella quale si possono osservare dal vivo alcune tra le varietà più curiose; gli animali dell'azienda agricola: cavalli, manzette, pecore, maiali, api ed un vivaio di 3.500 metri quadri che conta un'ampia varietà di piante da siepe e ornamentali.
Contact us for more information