Restaurants in Brianza for ceremonies
Room with a large garden
Among the restaurants for ceremonies in Brianza, La Camilla offers spacious and elegant rooms for 20 to 200 peoplehe farmhouse, in Concorezzo, has a large garden with aviary and ridingFor overnight stays, La Camilla is also a hotel with rooms equipped with all comforts, from air conditioning to wi-fi.
Restaurant for wedding in Brianza
The restaurant for wedding in Brianza offers special arrangements for the celebration of civil ceremonies and banquets cared for in every detail, from mise en place to gastronomic and wedding proposal to the wedding cake.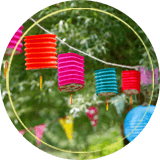 Farmhouse for communions in Brianza
The farmhouse for Communion in Brianza, La Camilla offers special Communion Menu, from the rich starters to the first traditional dishes, from meat and fish to the custom desserts for each the event.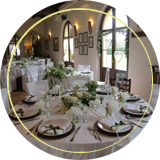 Loaction for baptism in Brianza
La Camilla i salso an exclusive location for baptism, it organizes ceremonies with custom menus and theme set-ups, providing the mom with reserved spaces for nursing and baby changing.
Iscriviti alla nostra newsletter